Murillo Restorations
PHOTOGRAPHS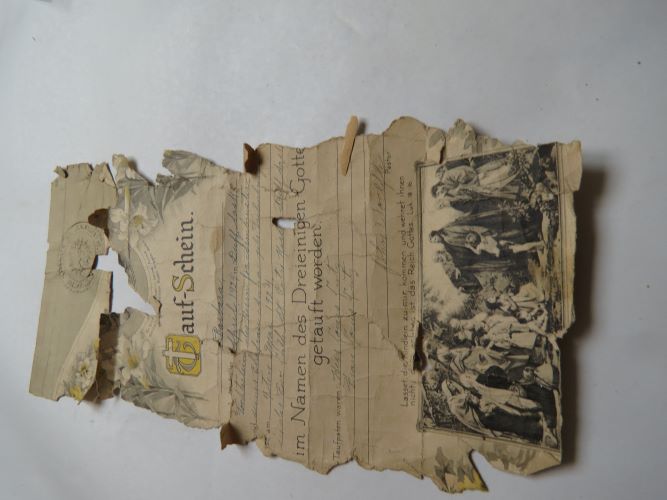 German baptismal certificate in pieces.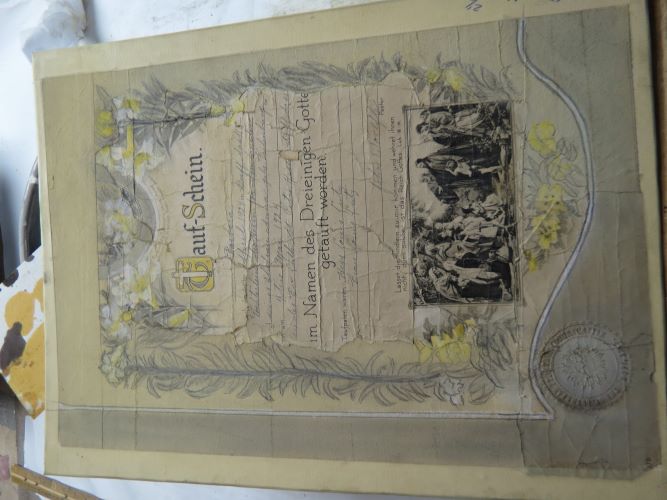 Torn and missing parts replaced with similar artwork to match the rest.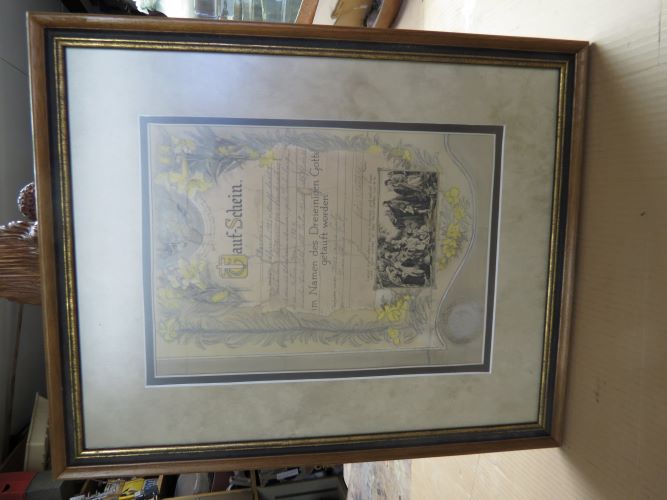 Restored and framed.
---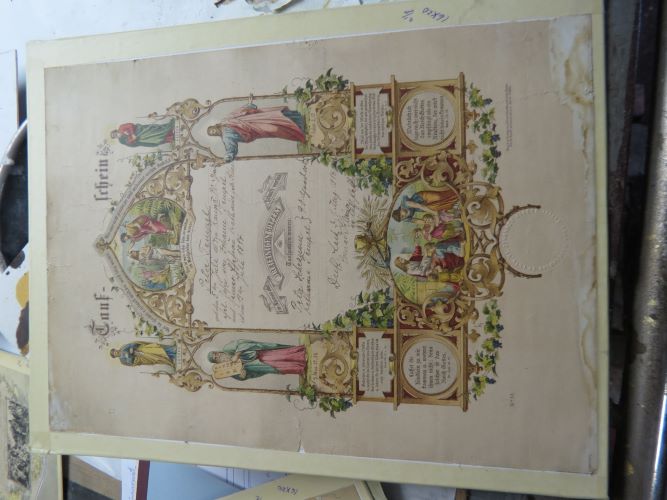 Water damaged and torn.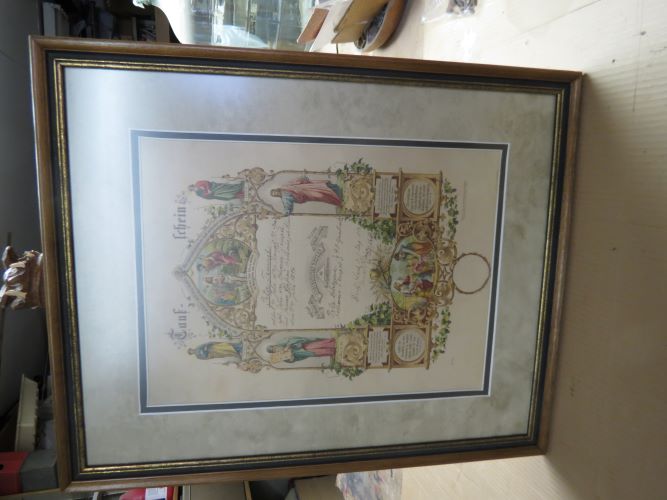 Restored and framed.
---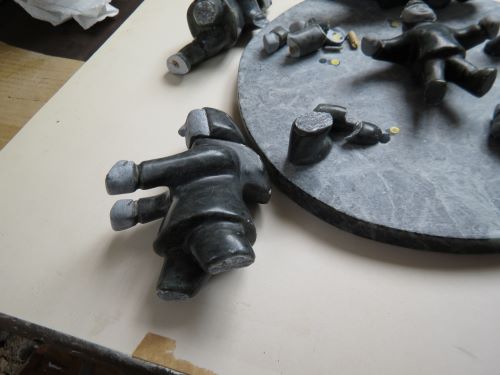 Inuit sculpture broken into many pieces.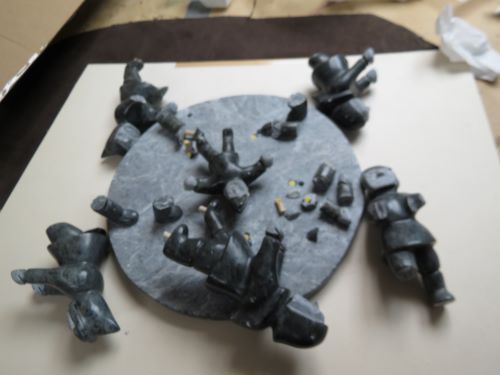 Another view of the pieces.
Glued back together with missing pieces replaced, and a new canvas added.
---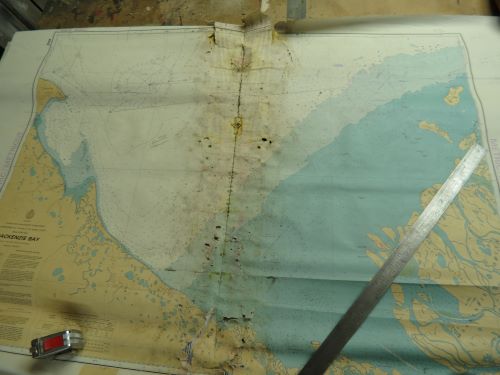 Old Navy map which is torn, mouldy, dirty, wet and with parts missing.
Torn and mouldy.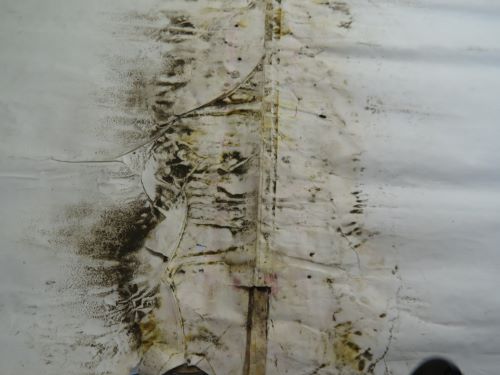 Mould on back of map.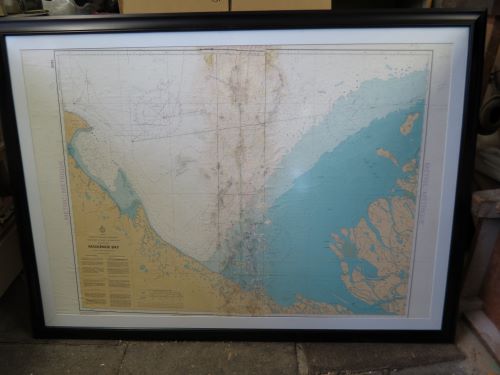 Cleaned by eliminating mould, and deodorizing. Missing parts replaced and coloured to match. Back of map reinforced to hold together. This shows the limitations of restoration. Not all damage can be repaired so it is invisible.
---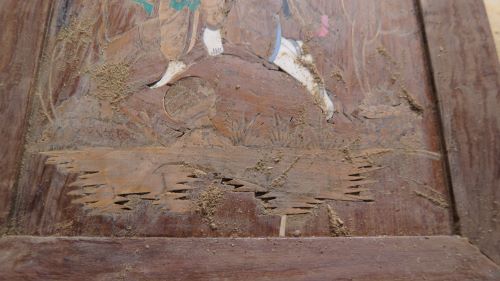 Old carving made like a mosaic. Many small parts are missing. The inlay is cracked, discoloured and warped.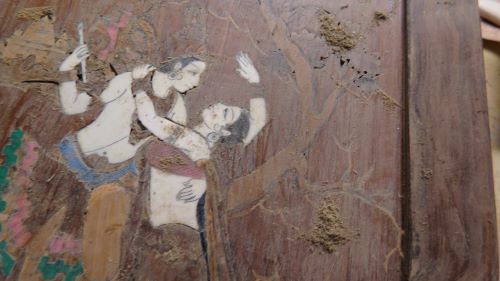 Colours faded.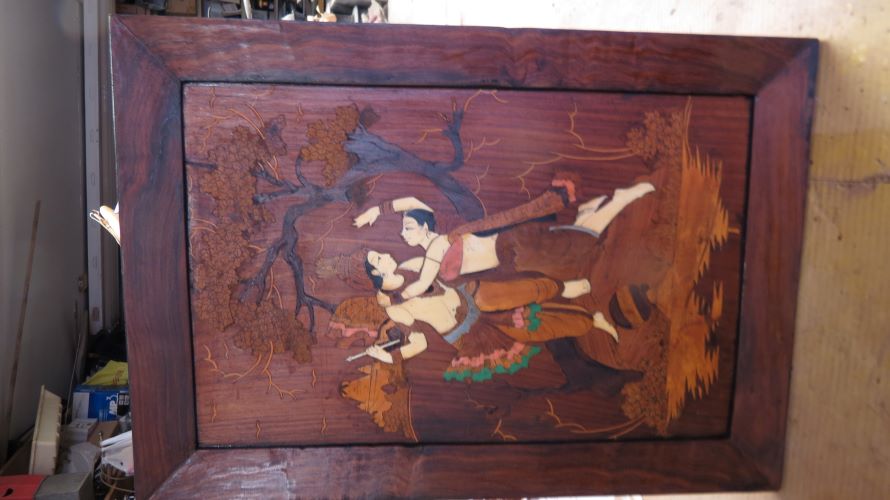 All cleaned, straightened and glued back together. Re-stained to match old finish.
---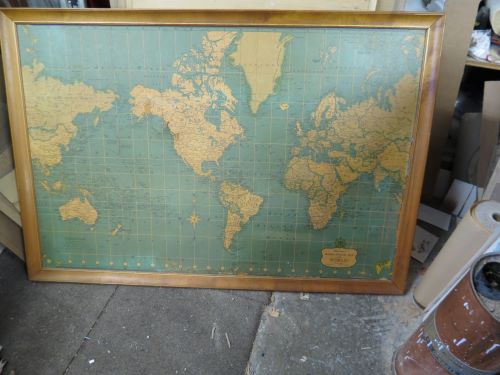 World map torn in many places.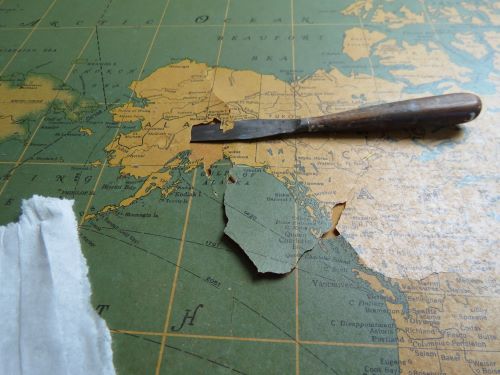 Details of tear lifted.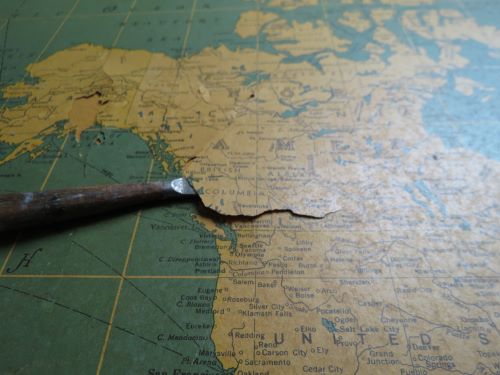 More detail.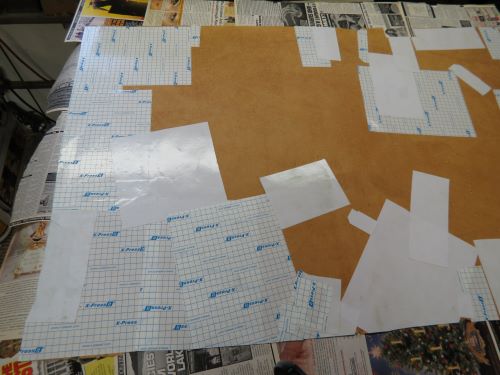 Back reinforced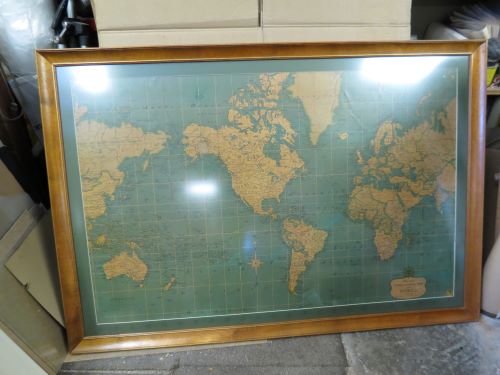 Pieces replaced and coloured to match and framed with non-reflecting glass.
---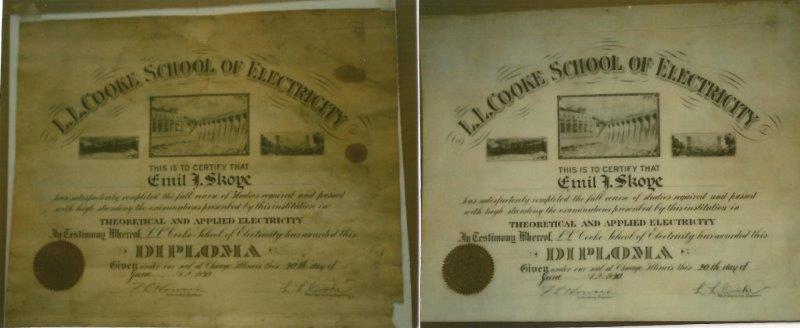 Foxing and water damage had to be removed from this diploma, and the whole document was bleached. This manipulation works 85% of the time, not every time.
---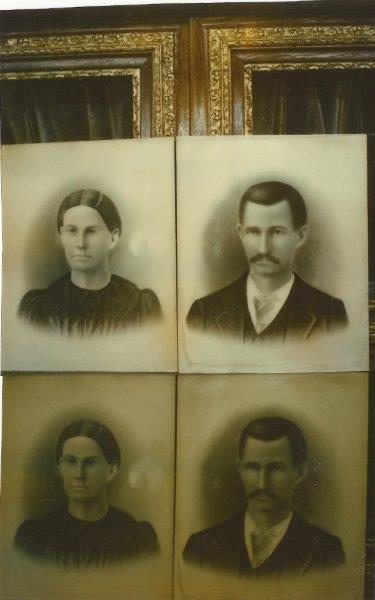 The background of this photograph was yellow and dirty. A new background was airbrushed in, and the persons were touched up to refresh the colours. The frames were dilapidated, dirty and the colours and gold leafing were missing. The frames had to be cleaned, sanded and refinished and new gold leaf was applied to restore to original condition.
---

Here the frame was removed and refinished with a new linen liner. Dirt and accumulated grime on the painting was removed. The painting was also faded due to exposure to direct sunlight so the background and train had to be touched up to rejuvenate the colours. A coat of varnish was added to protect the painting.
---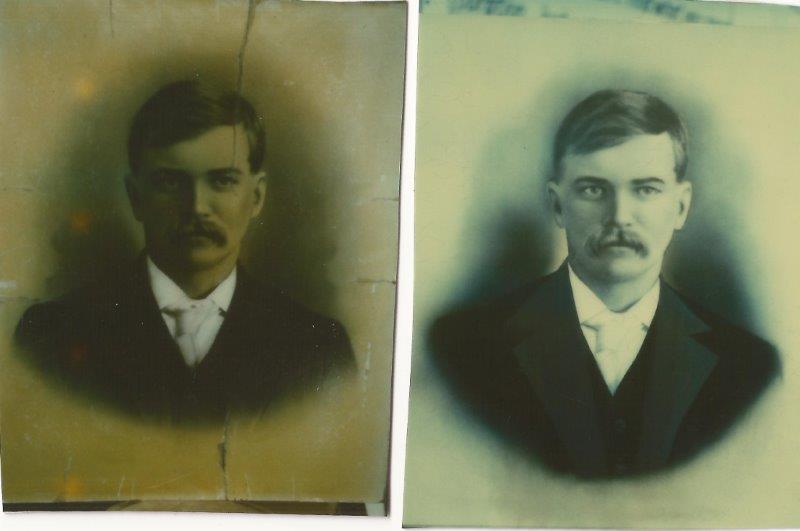 This photograph was ripped and the edges were frayed. It was mounted on new backing. The crack lines were filled in, and then the photograph was cleaned and a new background was painted in.
---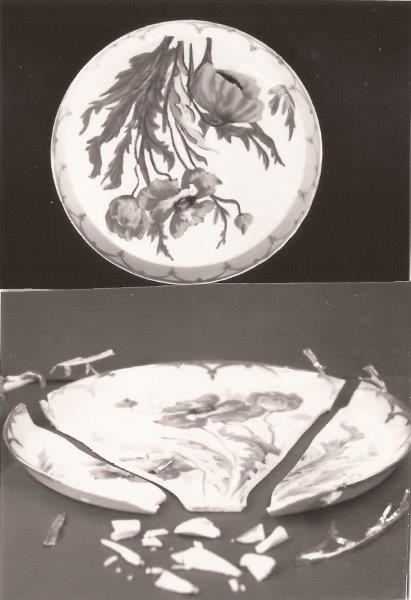 This plate was broken in many pieces. It was glued back together and the missing parts were filled in. The glue lines had to be filled in and painted. Gold leaf on the edge was re-applied to finish the work.
---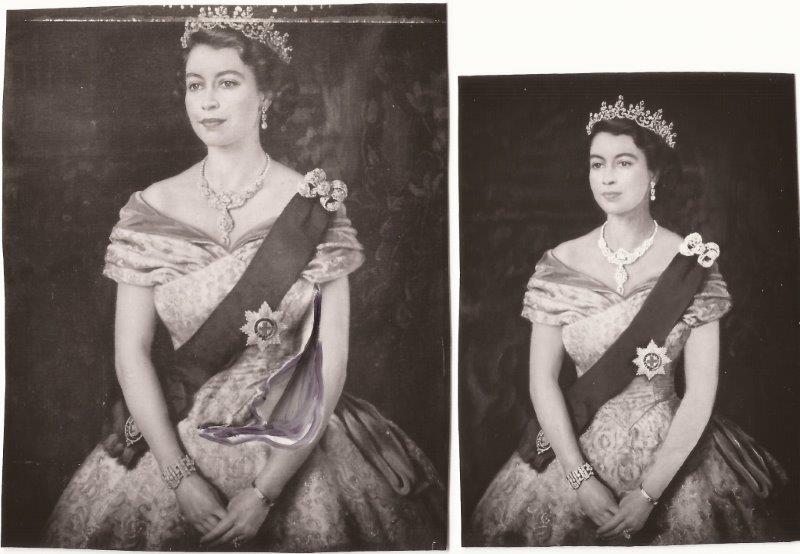 Portrait of Queen Elizabeth II as a young woman. This oil painting was vandalized by someone who punched it right through. It was put on a solid backing, and the colours were touched up to bring back the original look.
---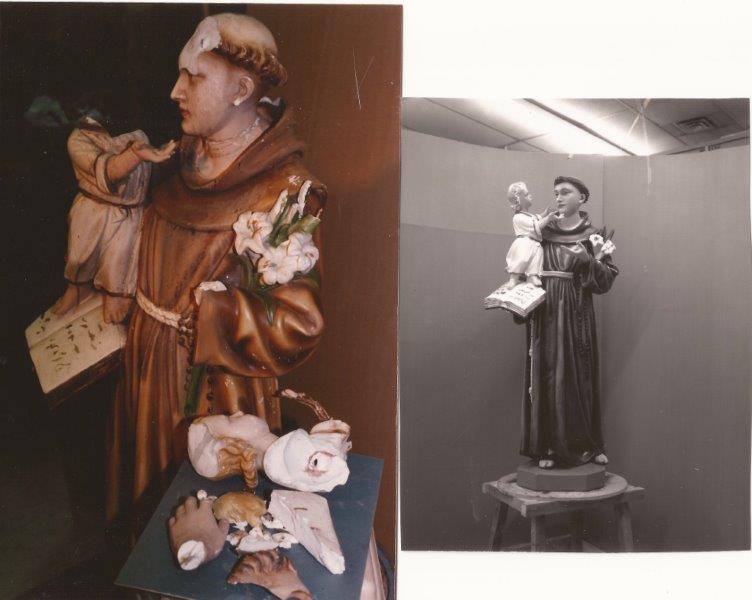 This church statue was vandalized. The statue's head was broken off as well as its forehead. Baby Jesus's head was broken off. The flowers, the book and the hands were broken off. Also there were several scratches and chips on the body. All had to be re-glued, missing parts had to be re-created, and then the whole statue was refinished to match the old colours.
---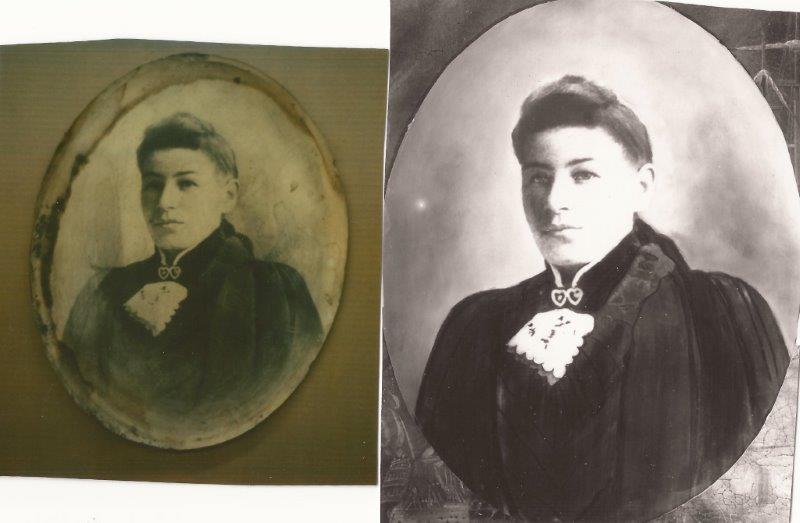 This photograph was found in a barn. The backing was peeled off, and a new convex backing was glued on and the photograph was cleaned and touched up with pastels to rejuvenate it.
---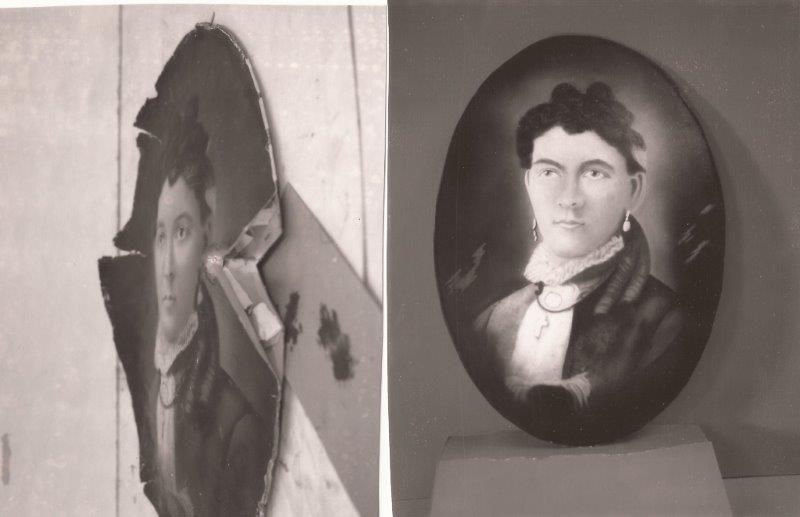 This portrait from 1910 was mistreated and found in an attic in this condition. The backing was broken, the edges were frayed and peeling from backing. The picture layer was peeled off from old backing and remounted on a new convex backing. Missing parts of the photograph had to be filled in with other paper to match thickness and whole picture was re-worked.
---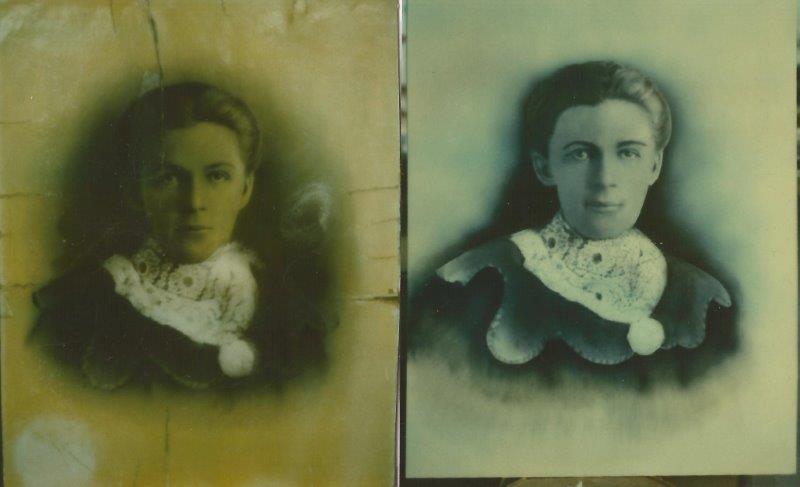 This photograph had water damage and was dirty, torn and coming off from the backing. The crack lines were filled in and re-worked. It was restored with new backing and touched up.
---
Contact Information
Andrew Spisak
Murillo Restoration
13431 114 Street
Edmonton AB
T5E 5E5
780-457-0538
e-mail: andrew@murillorestor.ca
---
Updated 09/2020.
Webpage designed by Michael Dell.
Contents are copyright 2013-2020 by Murillo Restorations.